Which Online Photo Book Service Is Best?
For me, travel is about so much more than just the trip. I absolutely love the months and weeks leading up to a trip when I'm learning about a place and planning an itinerary. And I love the time after a trip when I can look back at photos, relive the memories and reminisce over our travel stories. And one of my favourite ways to do that is with an online photo book service!
These days, everyone has photos on their phones but so few people take the time to print them. It's old school, but there's something so special about holding a photo in your hand and taking the time to appreciate it.
Anyone else spend all day creating a photo book of your past travels instead of doing work or was that just me? 😂😅

— Riana | Teaspoon of Adventure (@tspadventure) March 15, 2022
I love online photo book services because not only do they allow me to print my memories and have handheld reminders of the amazing trips I've been on, but they also allow me to walk down memory lane while I put my photo book together. I enjoy spending hours pouring through my photos, choosing the perfect layouts and arranging every page just so. Of course, if you're not as fanatical about photo book layout as I am, all of these services have made-for-you layouts that you can simply drop your photos into.
In today's post I'm going to compare some of the most popular online photo book services: Vistaprint vs Shutterfly vs Mixbook. I'll share my experiences with each and the pros and cons of the service. This post is not sponsored, so all of the views are completely unbiased.
Unfortunately, this won't be a perfect direct comparison as I ordered slightly different books from each place. But all of the books below were ordered in the last five months (between Nov 2021 and Mar 2022), so the reviews are current. I also do a direct comparison of the same product across all of the brands at the end of the post.
So if you're looking to create a photo book of your travels – or any of your photo memories – stay tuned to find out which online photo book service is the best! Will Shutterfly, Mixbook or Vistaprint win? What about a local drugstore printer or the fancy Artifact Uprising?
Vistaprint Photo Book Review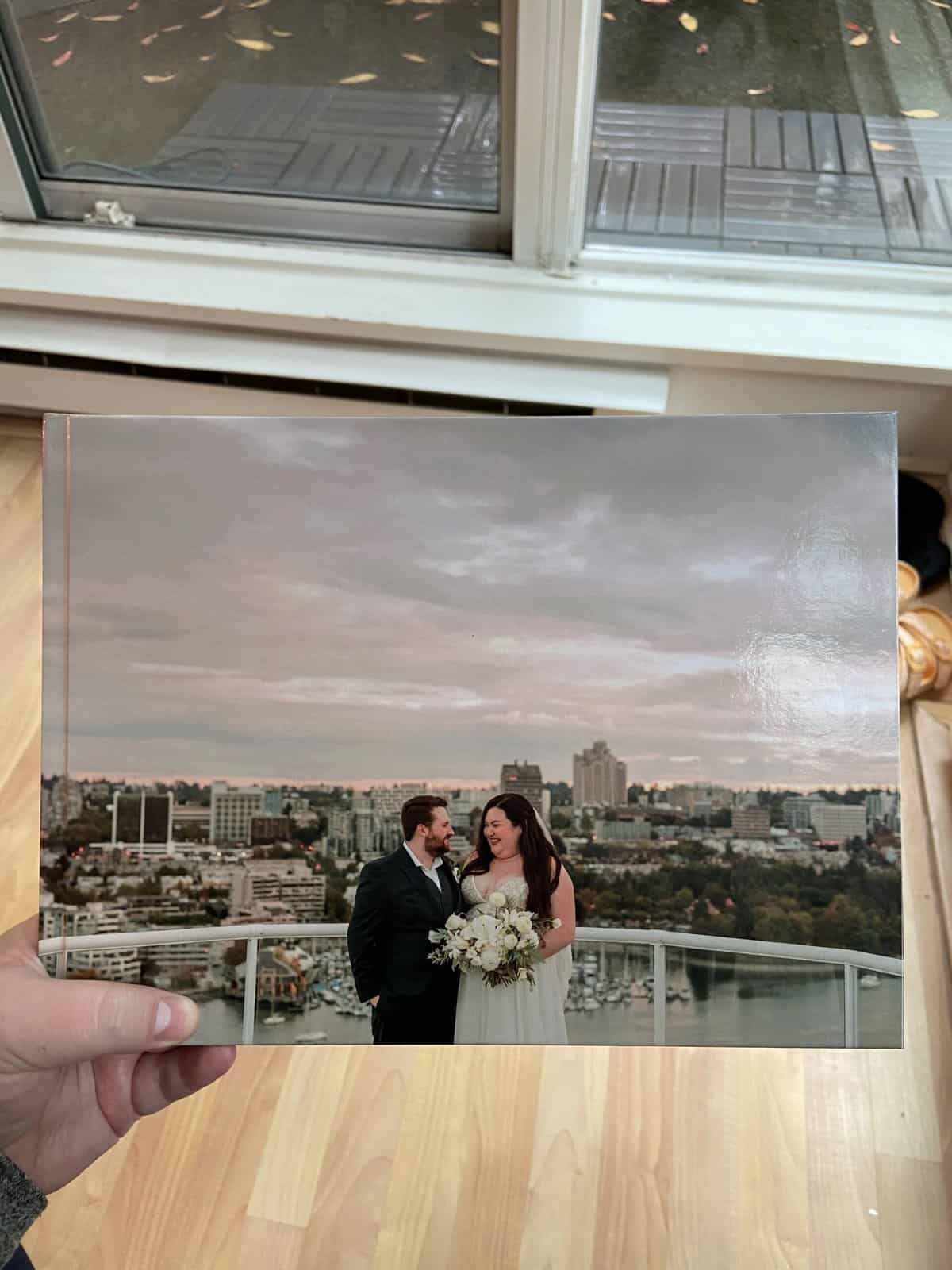 Vistaprint is one of my go-to photo book services. Over the last couple of years, I've created a number of photo albums with them, as well as postcards and calendars. I order through the Canadian version of Vistaprint, but there are American, British and other versions, depending on your country.
For this review, we used Vistaprint for our wedding album! Here are the details of our order:
4x photo books
Standard matte paper
Hard cover album with photo cover
48 pages
11 x 8.5″ size
Express shipping: $20.99
$159.21 CAD total; $39.80 per photo book (not including shipping costs)
Price: 5/5
This will be a common theme throughout this post but it's important to note that I used a discount code. The price without the discount would have been $227.45 total or $56.86 CAD per photo book. I believe we also received a discount for ordering four books. And I'm not including the shipping cost in this price, as most people wouldn't choose priority shipping.
Vistaprint photo books are always hard cover and come with 24 pages; we paid extra for the additional pages and to put a photo on the cover. However, compared to the prices of some other online photo book services, this was awesome bang for buck! It's one of the cheapest options if you want a hardcover book with lots of pages.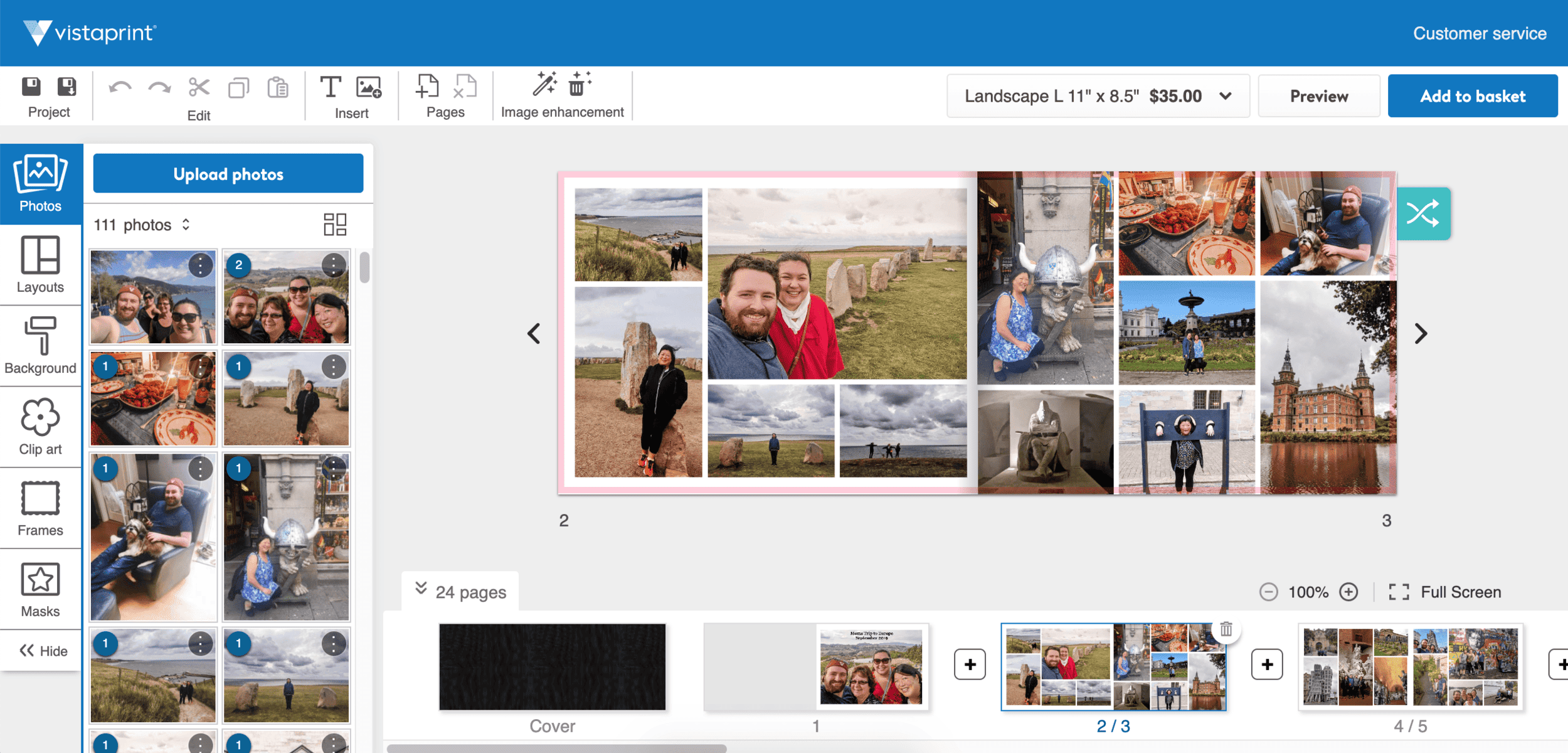 Photo book creator: 4/5
Vistaprint's online photo book editor was easy to use. I liked the layout options and the safety border so you know if your photos will bleed into the margins. I also liked having all of the photos I inputted on the lefthand side and the pages along the bottom. There's another photo book creator I liked better, but Vistaprint's was pretty good.
Delivery: 3/5
We ordered our photo books on November 28, 2021 and paid for priority shipping ($20.99 CAD) expecting them to arrive by December 13, 2021. This was super important as we were giving the wedding albums to our parents as Christmas gifts and needed them before Dec 17, when we were flying to Toronto. Unfortunately, the albums were delayed and didn't arrive until Dec 19, after we had left for the holidays.
Obviously this was upsetting as we had paid extra for priority shipping and didn't get to give our parents their gifts in time for Christmas. However, this was also during some of the worst supply chain delays and intense flooding in BC, so it may have been a one-off issue. We also ordered postcards and a calendar at the same time, which both arrived ahead of schedule.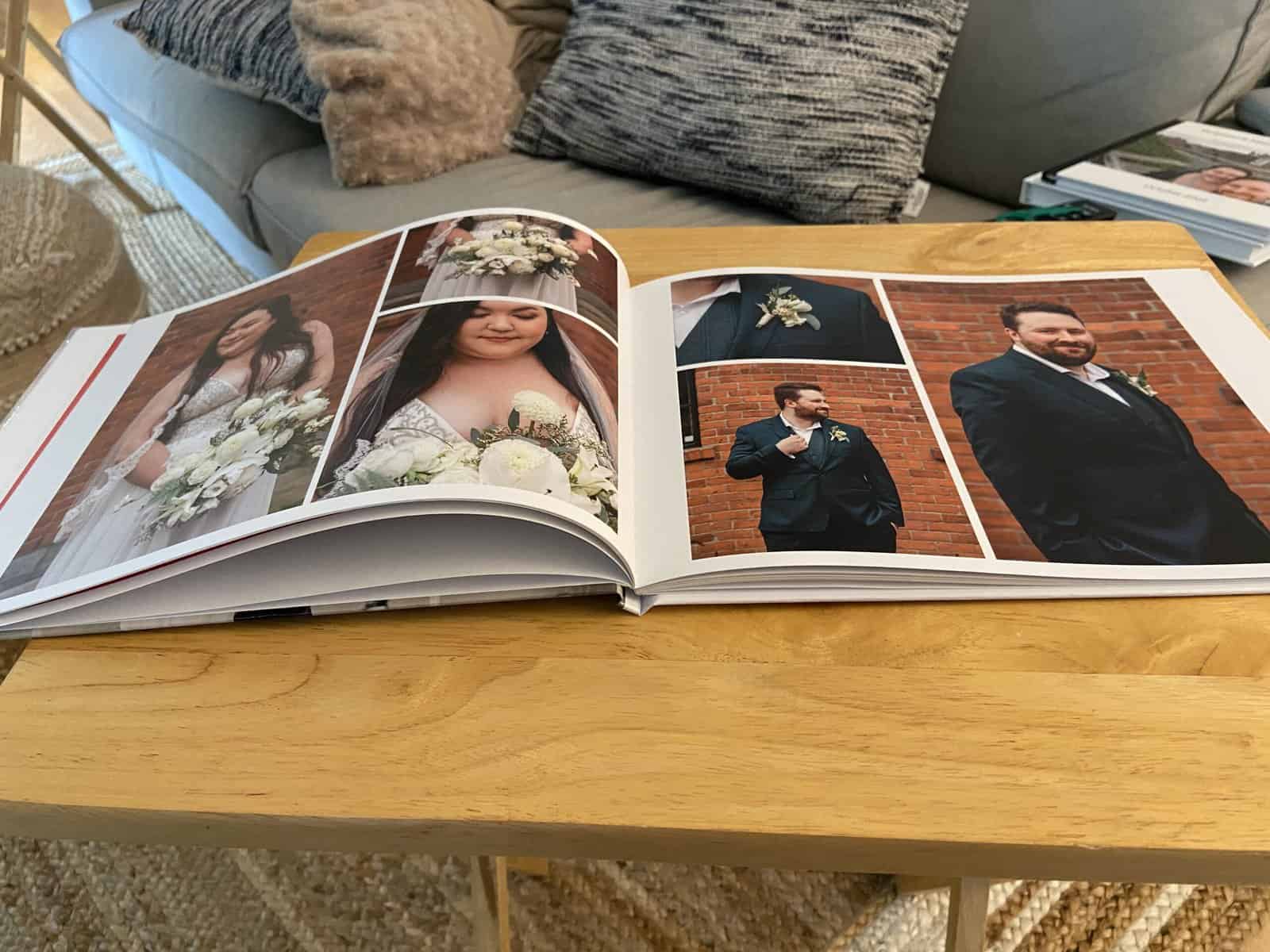 Product: 4/5
I was really impressed by the final product, especially considering the price! Our Vistaprint photo books are a really nice quality. The photos printed beautifully and the pages look really clean. Despite not having the option to order lay flat pages, the pages all lay quite flat (meaning you don't lose half your photo in the crease). I think going for a longer book (8.5 x 11″) helps the pages to stay down. The cover does feel a little on the cheap side (especially compared to another book below), so if you're looking for luxury, this wouldn't be it.
Shutterfly Photo Book Review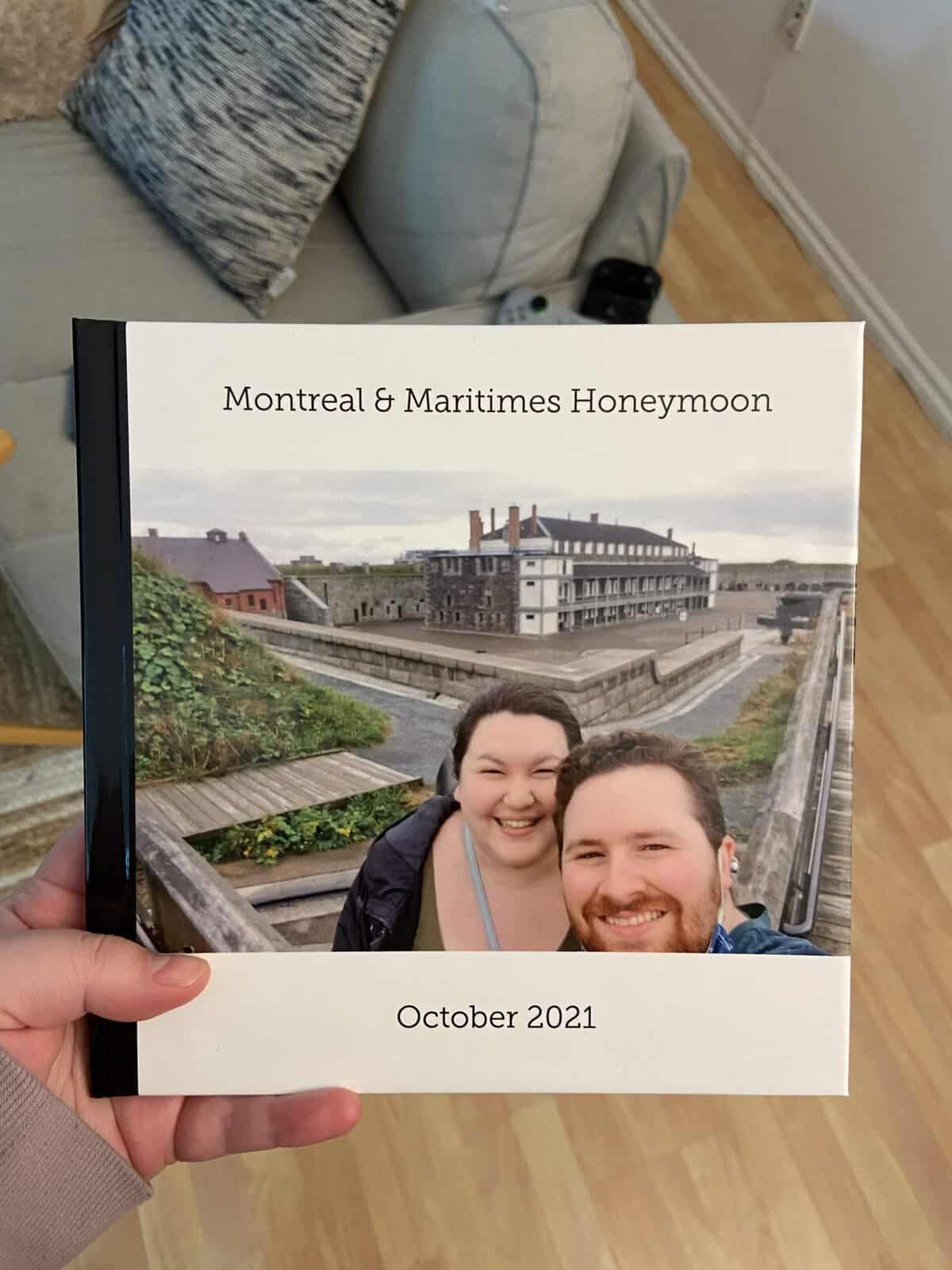 Like Vistaprint, I've ordered from Shutterfly a number of times over the years. Most recently, I used Shutterfly to create a photo book for our honeymoon through the Maritimes and Montreal. Important to note here that Shutterfly is an American site and prices are in USD. They do ship to Canada (lucky me!) but you'll be paying US prices.
Here's what I ordered:
Standard pages & standard binding
Hard cover album with photo cover
25 pages
8 x 8″ size
Standard shipping to Canada: $12.99 USD
$19.49 USD total (not including shipping costs); apx $25 CAD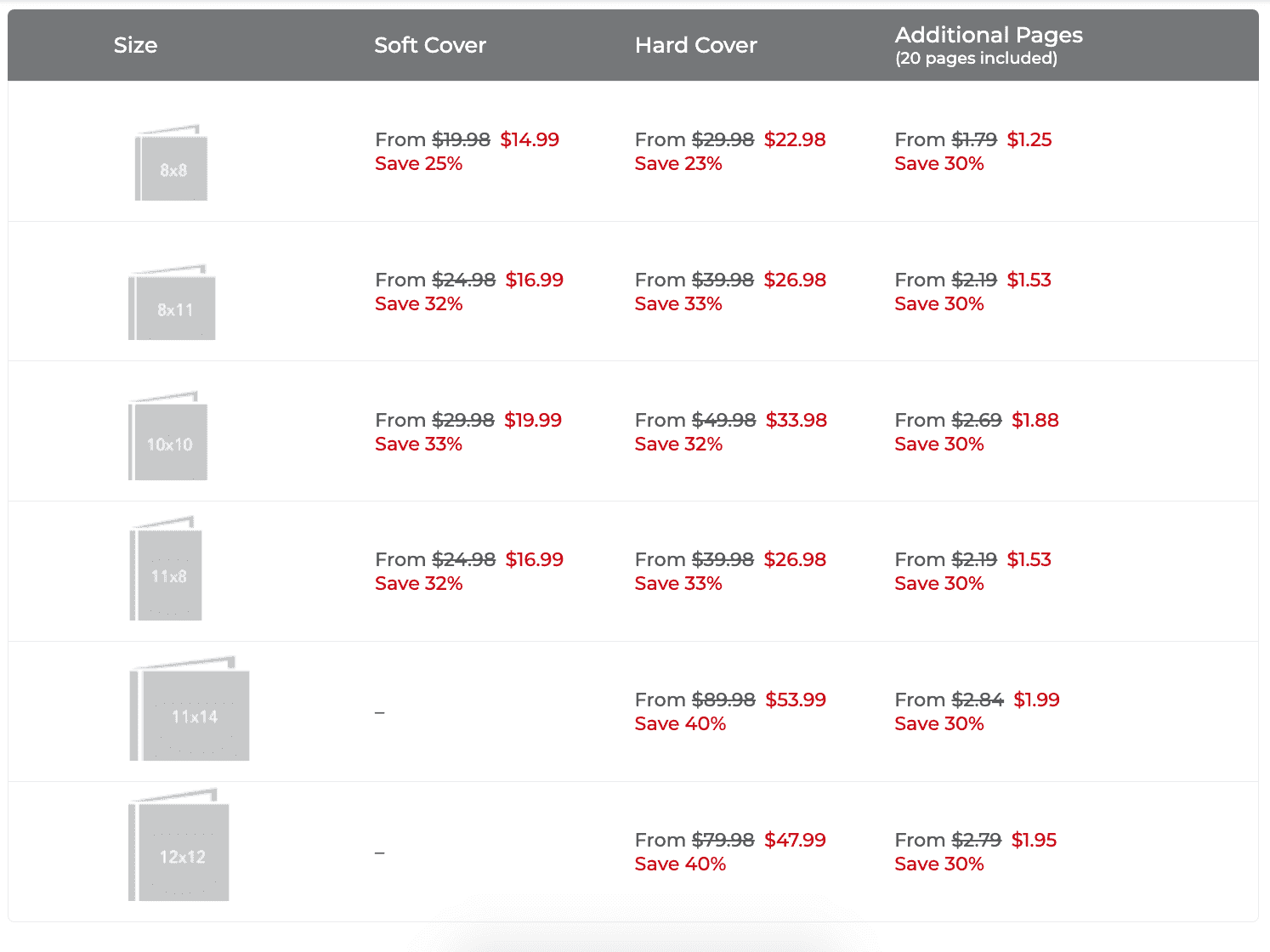 Price: 4/5
Once again I must begin by saying: I used a Shutterfly discount code that I believe gave me 50% off the regular price. Without the discount, this book would have cost $38.93 USD ($50 CAD) before shipping. But thanks to the discount, I got a 25 page, hard cover photo book for just $25 CAD – that's a pretty great deal! However, if you're stuck paying regular prices, the Vistaprint book above is way better bang for your buck (more pages, bigger book, same price).
Also, being Canadian, I prefer to get charged in Canadian dollars rather than USD and let my bank decide on the exchange rate. But overall, Shutterfly is still a good deal!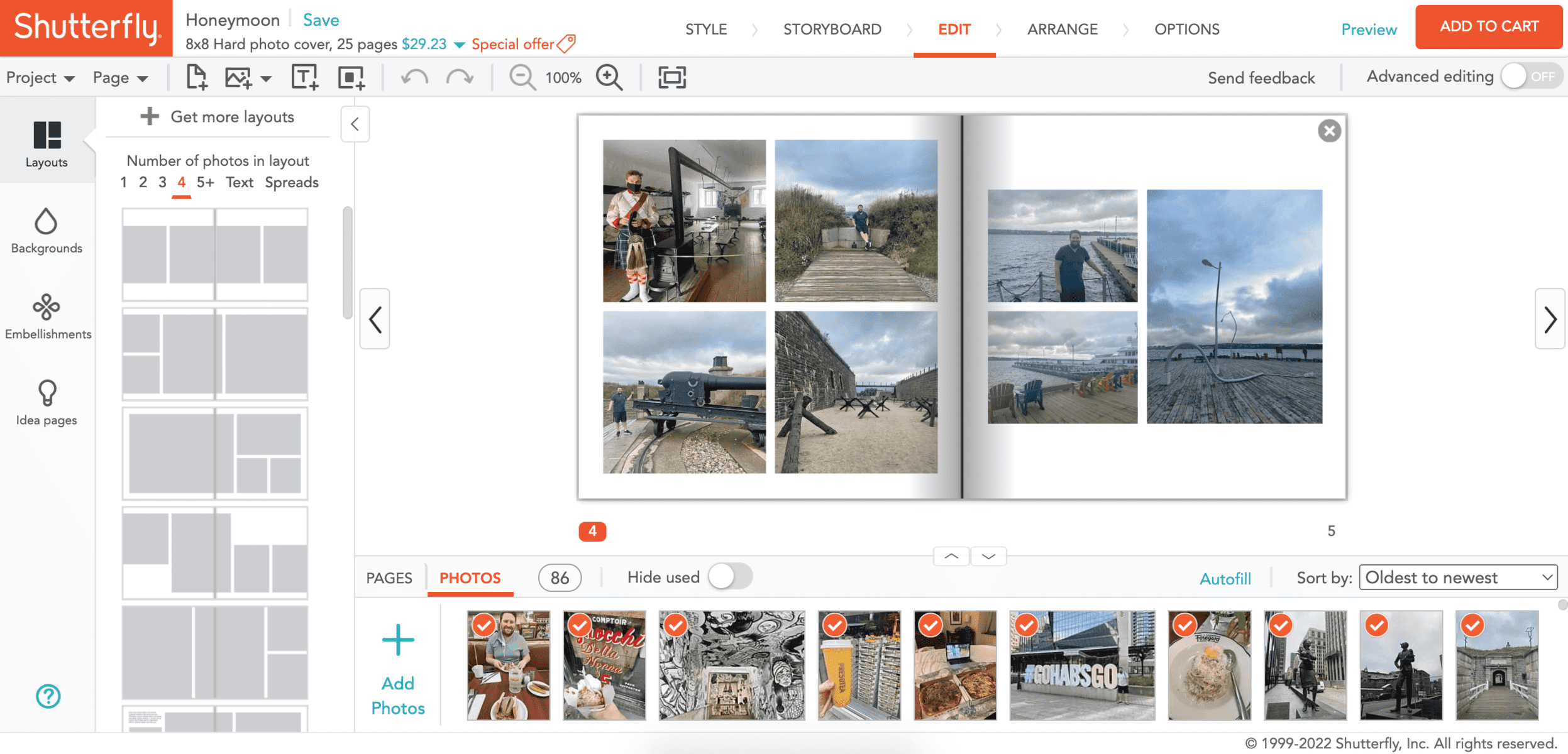 Photo book creator: 3.5/5
Like the other online photo book services, Shutterfly is simple to use and offers lots of options. I particularly liked how many layouts they offered, including ones that spanned two pages to tell a more cohesive story. However, one big dislike for me was where the photos lived. Uploaded photos were kept at the bottom of the page, cutting into the space used to build the book. It was also really hard to see more than 10 photos and scrolling through them became disorienting.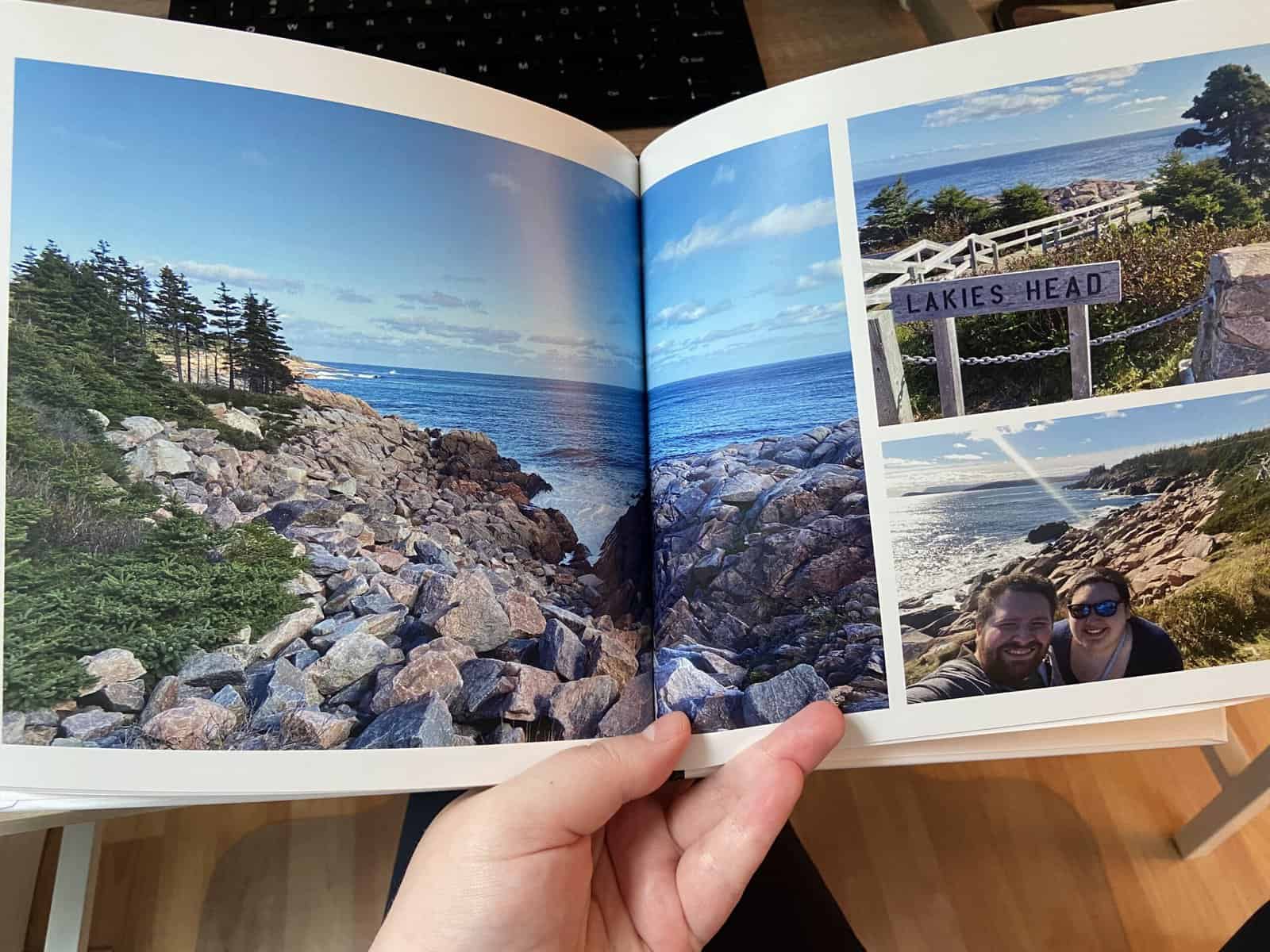 Delivery: 5/5
I was extremely impressed with Shutterfly's photo book delivery, especially considering it shipped from the US and I'm in Canada. I ordered my photo book on March 14, 2022 and received it on March 17, 2022. Not only was delivery extremely quick but the book was also hand delivered to me from the courier, rather than left in my mailbox or at the front door of my building.
They also included a number of coupons with the photo book!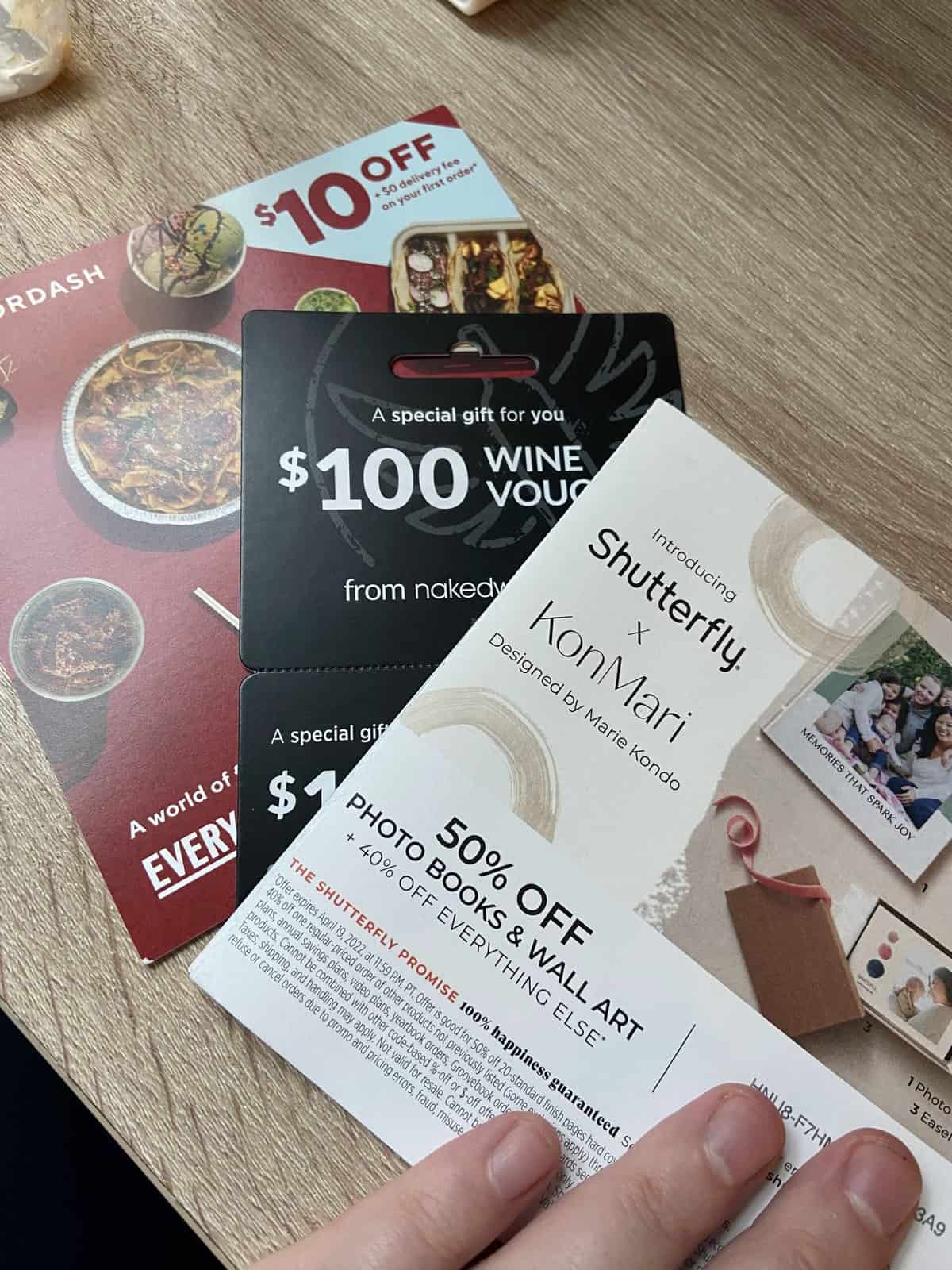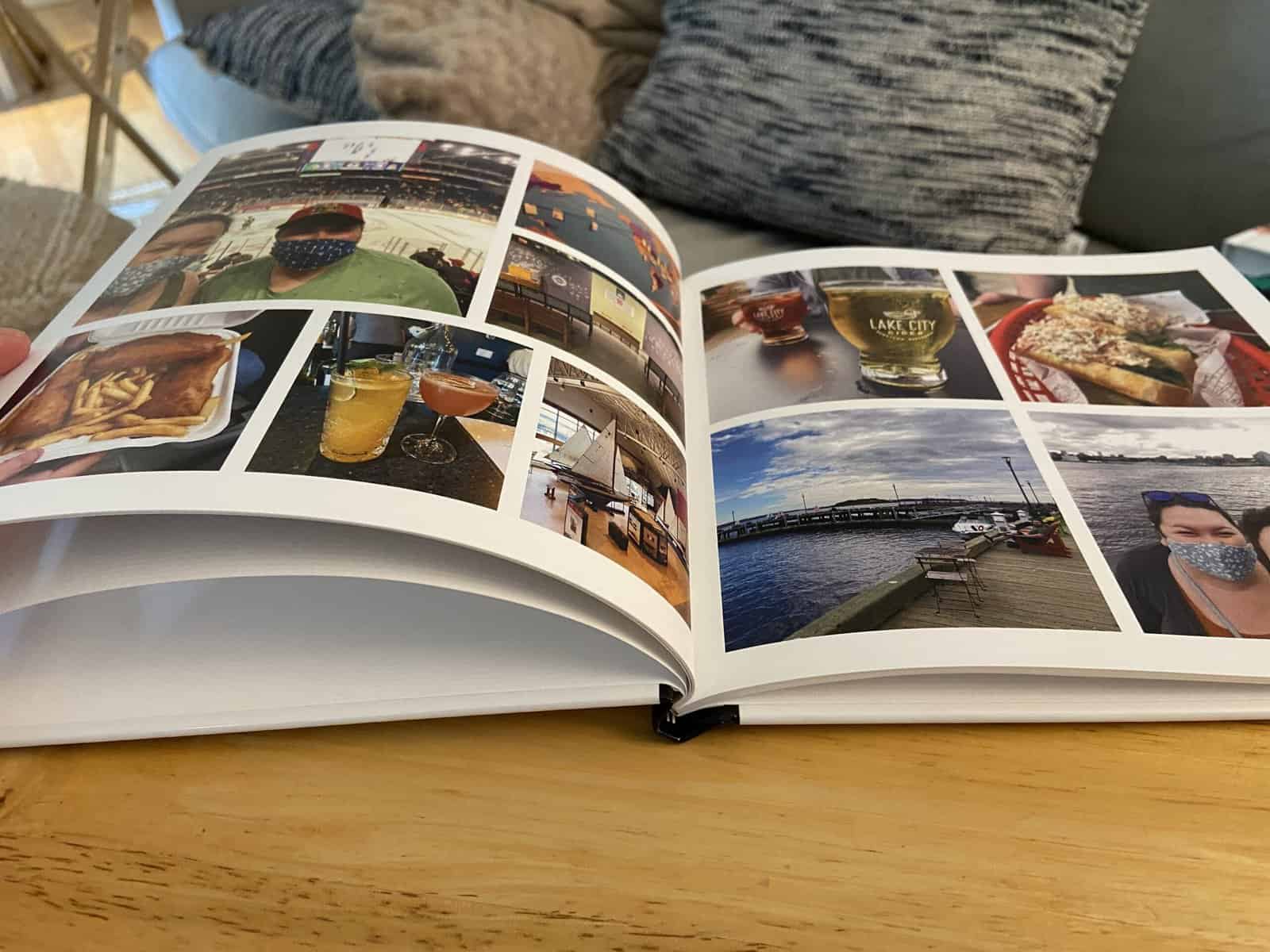 Product: 3/5
Sadly, I wasn't super impressed with the Shutterfly photo book quality. The photos all looked a tiny bit blurry; the cover was super grainy and too shiny for my liking. While most online photo book creators will warn you when an image is too low quality to print well, Shutterfly never flagged any of my images. I also found that the binding was really tight and the pages didn't lie flat at all, meaning some of the photos got cut off in the crease.
The Shutterfly photo book isn't awful by any stretch. But the quality certainly has room for improvement, and was the least impressive compared to Mixbook and Vistaprint. Perhaps the Shutterfly album would have looked better if I upgraded the pages or cover, but of course, that's an added expense.
Mixbook Photo Book Review
This was my first time using Mixbook after seeing it pop up in my social media ads a few times. I read a couple of reviews and decided to take the plunge! For this photo book, I put together an epic 51-page album of our year abroad in Prague. Because this was such a huge album of a very special trip, we decided to add some upgrades.
Here's what we ordered:
Minimal white pages/style
Matte hard cover album with photo cover
Premium lustre lay flat pages
51 pages
8.5 x 8.5″
Shipping: $13.99 CAD
$62.89 CAD total (not including shipping costs)
Price: 3/5
I'm not going to lie, the Mixbook photo book was expensive! And we had a discount code. We received 55% off; without that code our album would have been $139.75 CAD before shipping! So while this was certainly a pricy photo book, we did add a lot of that cost with our upgrades. By choosing a matte hard cover and the lay flat option, we more than doubled the price. Not to mention, the final book was 51 pages and you pay for every extra page after 20. But even with a basic book, Mixbook seems to be more expensive than Shutterfly or Vistaprint.
While I believe Mixbook is an American company, they offer prices in both USD and CAD. This was super helpful for me ordering from Canada.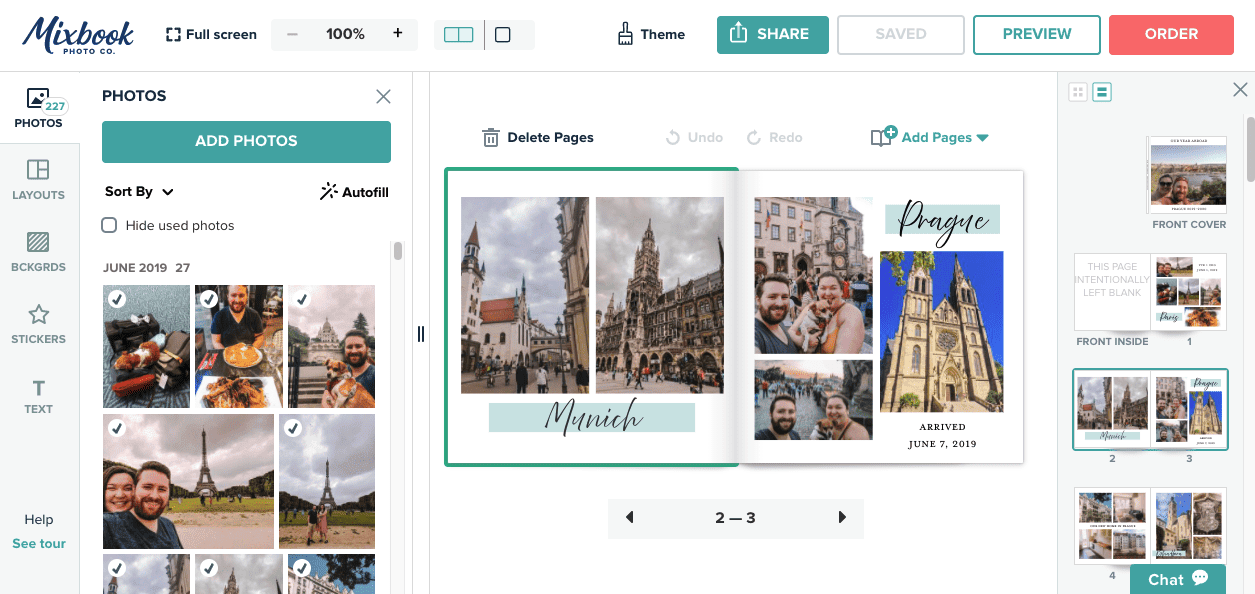 Photo book creator: 5/5
Of the three photo book services, the Mixbook photo book creator was my favourite. Like the others, it was easy to use and offered lots of options and layouts. I found it the most user-friendly because uploaded photos lived on the lefthand side (rather than the bottom) and were very easy to scroll through. They listed the date the photo was taken, which made putting together a chronological book very easy. I also liked having the pages on the righthand side where I could easily collapse them for more editing room.
Delivery: 4/5
I was pretty impressed with Mixbook's delivery. I ordered the photo book on March 16, 2022 and received an email telling me I could expect the book on April 8. However, it showed up in my mailbox on March 24th! So not as super speedy as Shutterfly, but still quite quick and sooner than expected.
Product: 5/5
By far, the Mixbook photo book was my favourite of the three services. However, it was also the one I added the most upgrades to, so maybe you get what you pay for! I'd be interested to see the quality on a basic Mixbook photo album without any upgrades.
I absolutely loved the cover of this book. The matte finish and print quality were perfect and felt so luxurious. Inside, the pages were so thick I often tried to rip them apart, assuming it was two pages stuck together. The lay flat binding was also such a great feature allowing the book to be easily viewed and no photos to be cut off. Some of the photos were a tiny bit grainy, but I think that had more to do with the photo I uploaded than Mixbook's printing.
Bonus: London Drugs Photo Book Review
I wanted to include one more online photo book review of a local service here in British Columbia, London Drugs. I ordered two express books through them and will probably never order photo books from them again! Having waited so long for our Vistaprint books in December, I thought a local printer with an express option would be the way to go. But I was wrong!
The books were 8 x 8″ hard cover photo albums with no option for photo covers and cost $25 CAD per book. As they were express books, they were supposed to be ready in 24-72 hours.
Price: 5/5
The price for these London Drugs photo books was perfectly acceptable. $25 CAD for a hard cover photo book ready in 1-3 days is a great deal. In the end, we got a 50% refund, so only paid $25 for two books – an even better deal!
Photo book creator: 3/5
The London Drugs photo book creator is clunky. It's obviously not as sophisticated or user-friendly as other online photo book services. While I did like that the uploaded photos lived on the lefthand side and the book warned you about the crop zone, I found the creator hard to navigate and didn't like formatting only one page at a time.
Delivery: 1/5
Delivery is where London Drugs really let me down. The whole reason I ordered these photo books from a local drugstore was because we needed them ASAP. The express books were advertised as being ready in 24-72 hours. I called the store at the 36 hour mark, as I was in the area, and they told me the books weren't ready yet but were out for shipment. They expected I'd get an email that afternoon or early the next day. At 48 hours, I had heard nothing. 72 hours? Still nothing!
Coming up on 96 hours, I called again and a very sweet employee went above and beyond to help me out. She shared that the books are printed off-site and that no, my books were not ready, despite the express order and assurances of the other employee. She offered me a 50% refund and apologized profusely.
Finally, 7 days (5 business days) after ordering, I received an email that my books were ready. I went into the store to pick them up and had to remind the cashier of my promised 50% refund. But even worse? They only printed one book! I had ordered two. They apologized again and it was another two days until the second book was ready.
TL/DR: Express books that were supposed to be ready in 1-3 days took 7 and 9 days.
Product: 3/5
Unfortunately, the product received was not much better than the delivery/pick up experience. The London Drugs photo books were not great. The photo printing was adequate but the quality of the book, cover and binding seemed really sub-par. The binding was super tight, to the point that almost all of our images are cut off and hard to see. This is especially disappointing since their online photo book creator has a crop warning, and I kept all of my images within their stated margins.
Mini Review: Artifact Uprising Photo Book Review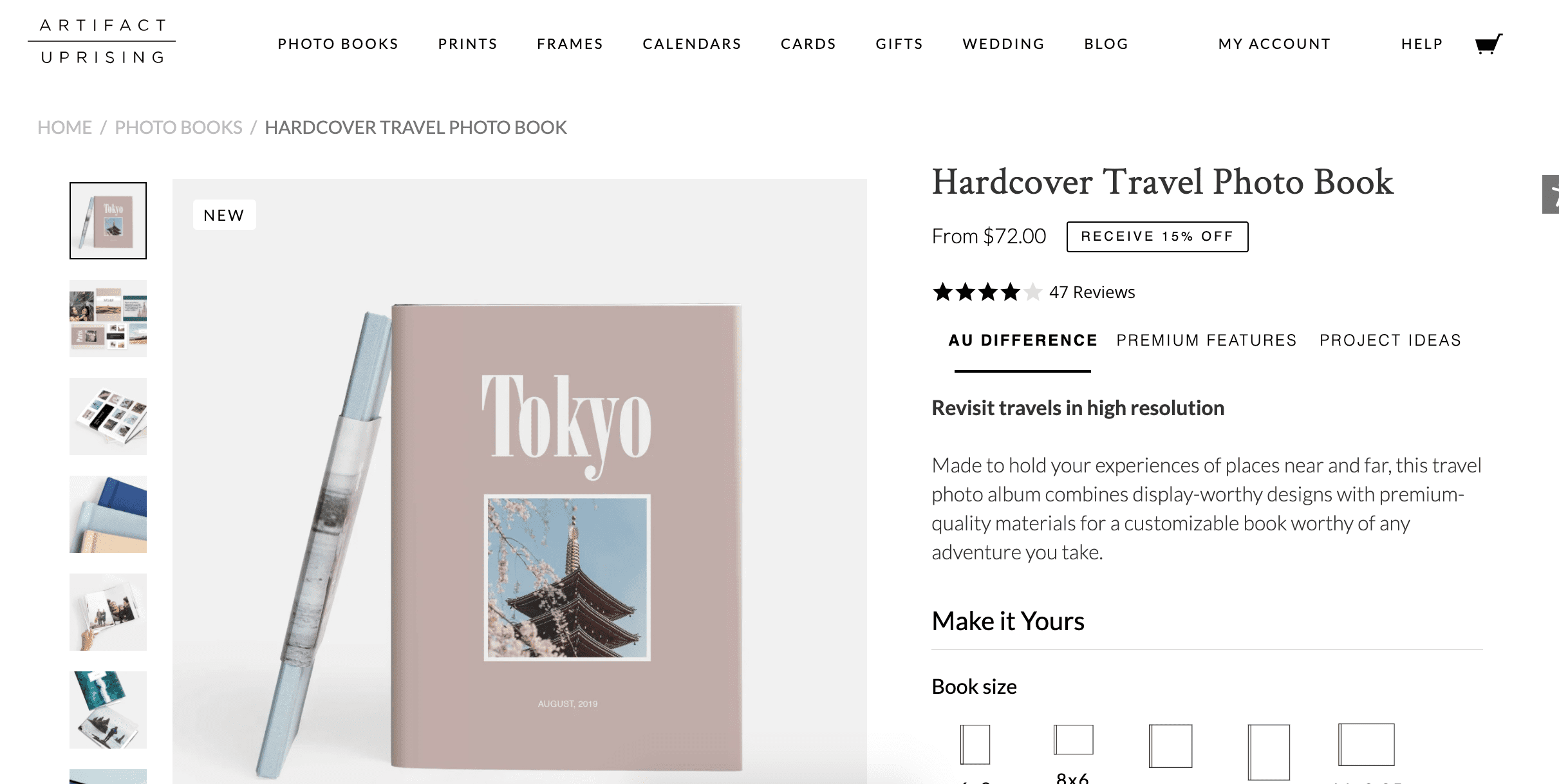 I haven't ordered an Artifact Uprising photo book in a long time, so don't feel it would be fair to include it in my full review. However, I did want to mention it as Artifact Uprising is a big name in the online photo book service world and I have used them in the past.
I ordered a small photo book through Artifact Uprising in 2014 of a trip through Europe with my mom. While the project was no longer available in my account (so I can't share the details of the order), I remember being quite impressed with the experience and product quality.
Overall, Artifact Uprising isn't really in my budget. While I want my photo books to be good quality, I'm not willing to pay hundreds of dollars to get that. In order to afford Artifact Uprising, I'd have to sacrifice on the size, cover and number of pages in my photo book, which I'm not willing to do. However, if I had a deep discount code, or wanted to create a more high-end photo book, I'd definitely head to Artifact Uprising.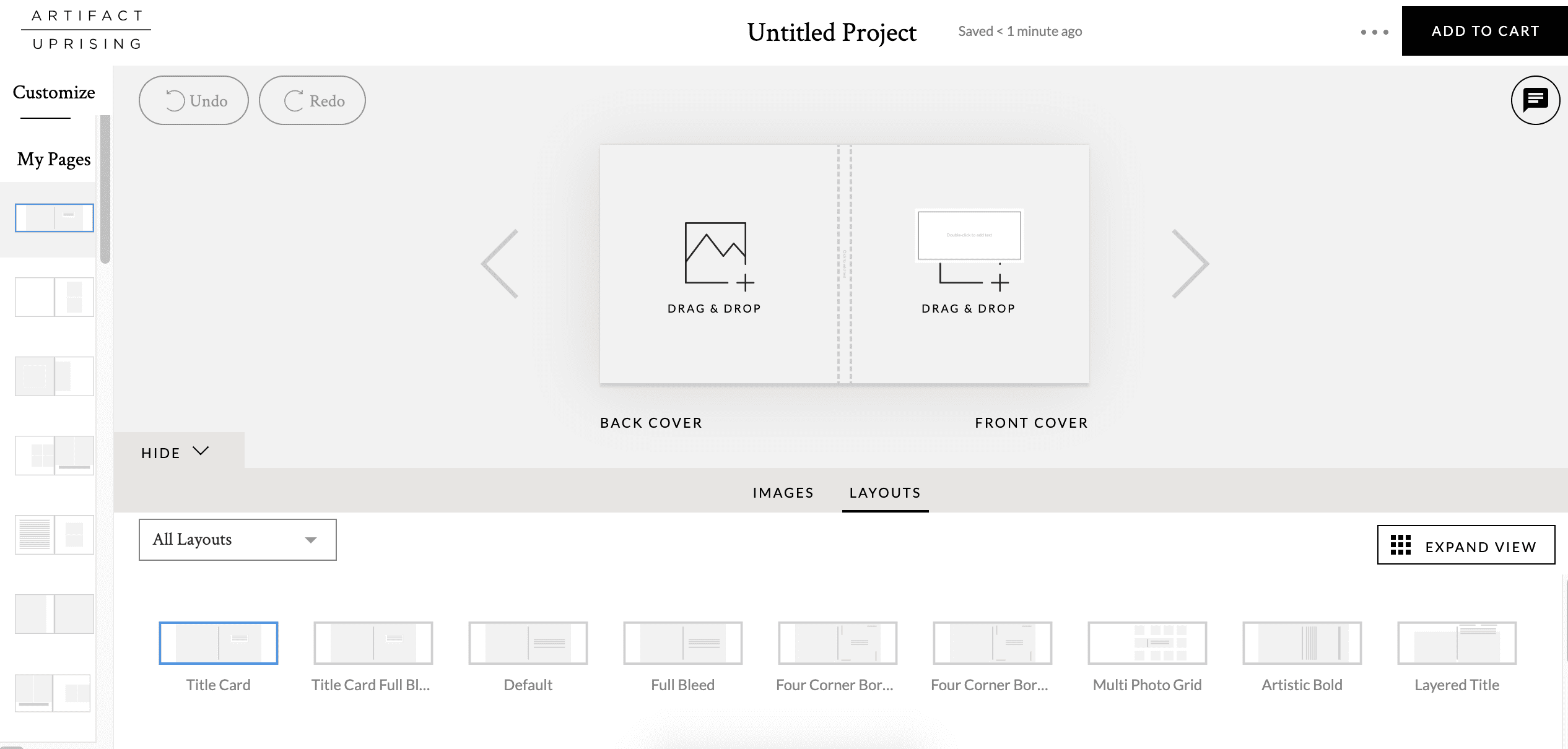 Shutterfly vs Mixbook vs Vistaprint: Which online photo book service is the best?
Okay, now that I've reviewed Vistaprint, Shutterfly and Mixbook (with bonus reviews for London Drugs and Artifact Uprising), which online photo book service is truly the best?
For starters, let's do a straight comparison of the same product. If you want to order a hard cover with photo cover, 8-8.5 x 11″ photo book with 20-24 pages, here is the cost in Canadian dollars without any discounts or shipping fees:
Vistaprint: $40.75
Shutterfly: $50
Mixbook: $53.99
So in this scenario, Vistaprint is the cheapest photo book option. But let's break things down a little further:
Which online photo book service is the cheapest?
If you're looking for the absolute cheapest online photo book, Shutterfly has the cheapest prices for any books 8″ wide or larger, not including any current discount codes or sales. However, that's with a soft cover. If you want a hard cover, Vistaprint is actually the cheapest online photo book service. They're also the cheapest when it comes to pages: Vistaprint includes 24 pages (Mixbook and Shutterfly only include 20 pages) and additional pages are only $0.86 per page compared to Mixbook's $2 per page and Shutterfly's $2.70 per page.
Which online photo book creator is the most user-friendly?
Mixbook has the most user-friendly online photo book creator software. I loved having the photos on the lefthand side organized by date and the pages laid out on the righthand side where I could easily hide them. The Shutterfly photo book editor seemed to have more layouts, but lost points for where they housed uploaded photos. Vistaprint had uploaded photos in a better area than Shutterfly, but the photos were not dated like they were with Mixbook.
Which photo book offers the most upgrade options?
Both Shutterfly and Mixbook allow you to customize your pages and cover, but Shutterfly seems to have the most options. With Shutterfly you can upgrade to lay flat; a mettalic, matte or leather cover; durable or glossy pages; and even access their designer collection. Mixbook also has upgrades for a lay flat design, leather cover and dust jacket cover. Notably, Vistaprint does not offer any upgrades aside from putting a photo on the cover and doing high gloss pages.
Which photo book has the fastest delivery?
Shutterfly has the fastest delivery, with a photo book arriving in Canada from the US only three days after I ordered it. Mixbook was also quite quick, and beat their estimated delivery time by two weeks. Vistaprint missed their delivery time, even though I paid for priority shipping, but there may have been some extenuating weather circumstances.
Which online photo book is the best quality?
Of the three photo books I ordered, Mixbook was definitely the best quality. I loved the feel of the book and cover, the thick, lay flat pages, and the quality of the photos. However, I did pay for upgrades with Mixbook (matte cover, lay flat pages), that I didn't with Vistaprint or Shutterfly.
With the two books that I did not add any upgrades to, the Vistaprint photo book was far better quality than the Shutterfly photo book.
Overall, which online photo book service is the best?
Overall, Vistaprint is the best online photo book service. It's the cheapest option if you want a hard cover book with more pages, which is important to me. The pages lay flat (despite not paying for this upgrade) and the photo quality is very impressive. The only let downs with Vistaprint are there aren't any upgrades available if you prefer fancy pages or covers, and delivery time may be hit or miss. But to me, the quality of the final product and the lower price tag beat out those cons.
So Vistaprint is my pick for the best online photo book service. But depending on what is most important to you (price, delivery, editing, product, etc.), you may have a different winner!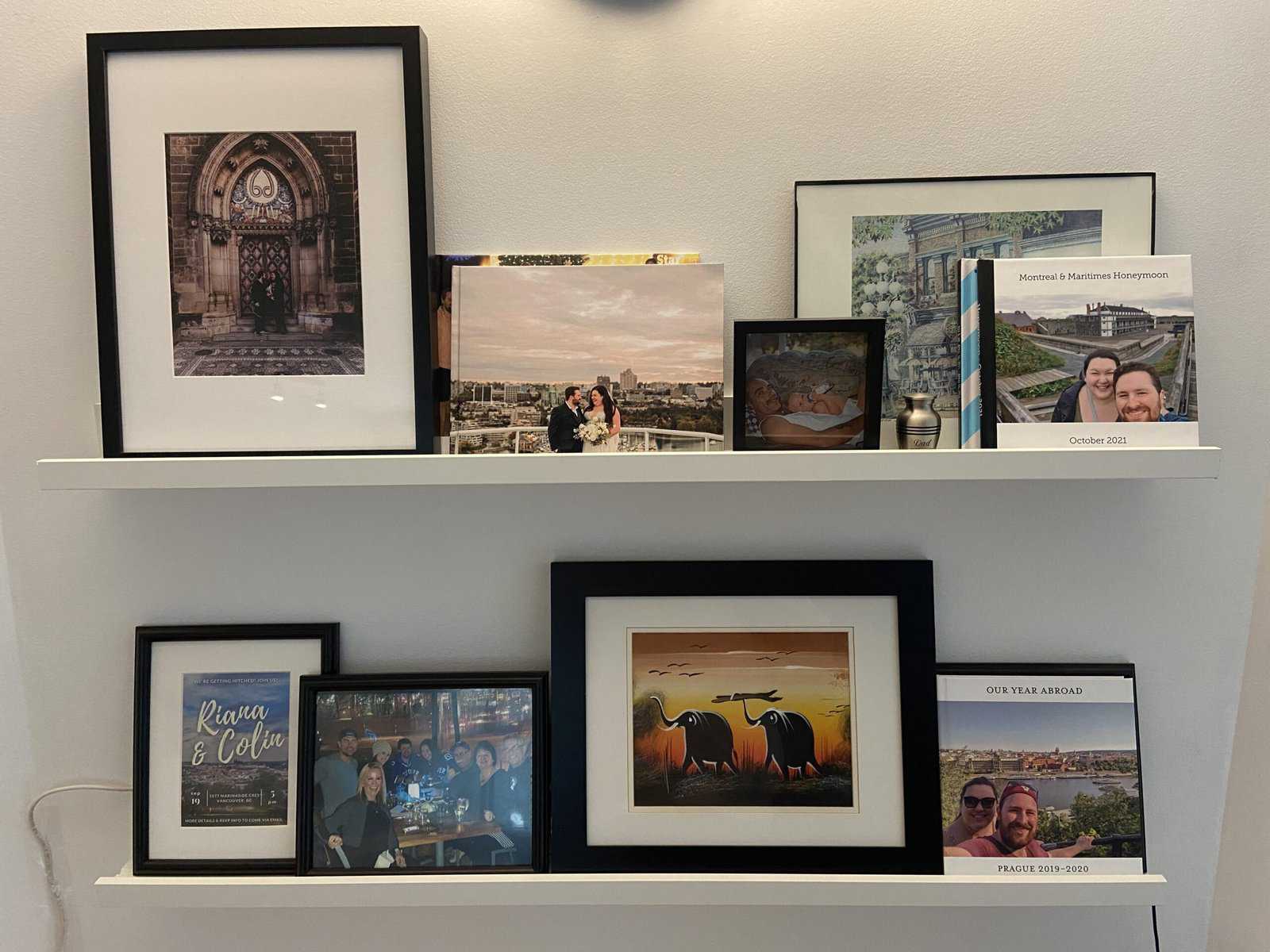 Tips for selecting an online photo book service
You thought after 3300 words I'd be done talking about photo books? Not quite! Here are a few more tips for finding the best online photo book service for you:
Look for discount codes, coupons and sales. Every single photo book I have ever ordered has been on sale – I have never paid full price for an online photo book. These companies run sales all the time and discount codes are easily available online or by signing up for their newsletter. If your book isn't time sensitive, wait it out until a sale pops up.
Watch your extras. You can easily blow your photo book budget with all of the options available such as adding more pages, increasing the size of your book and upgrading the paper or cover.
Watch out for shipping costs. Especially if you're ordering from Canada like I am, double check what shipping costs will be and if you're being charged in your home currency or not.
Order early. While some of my photo books showed up surprisingly quickly, there can be delays. Especially these days with supply chain issues, if your book is time-sensitive, make sure you order ahead of time. And if you're ordering around a major holiday, you'll want to get that order in early too. Plus, don't underestimate how much time it might take you to design your book and get it just right!
---
All right, we have finally reached the end of my very comprehensive online photo book service review. Have I convinced you to print your photos and make your own photo book? Which photo book maker would you go with?