5 Day Cabot Trail Itinerary on Cape Breton Island, Nova Scotia
One of the best parts of our three week honeymoon through Montreal and the Maritimes was the five days we spent on the Cabot Trail in Cape Breton Island, Nova Scotia. After eating our way through Montreal, falling in love with Halifax, stopping over in Moncton, and exploring Charlottetown, we were so excited to start our Cabot Trail itinerary!
Below I'm answering some common questions about a road trip through Cape Breton and sharing my advice for where to stay, what to see and where to eat. This is truly one of the most beautiful places in Canada (and maybe the world?) so it should definitely be on your travel bucket list.
The great thing about the Cabot Trail is there is something for everyone. Whether you're into hiking and camping, love great food or live for rich cultural experiences, you'll find it all on the Cabot Trail of Cape Breton Island, Nova Scotia!
Cabot Trail Map
Disclosure: Some of the links below are affiliate or paid links, meaning if you click through and make a purchase, I will earn a small commission at no additional cost to you. Thanks for your support!
Where is the Cabot Trail?
The Cabot Trail is a loop around Cape Breton Island, which is the most northeastern part of the Canadian Maritime province, Nova Scotia. The most southern point on the loop and natural start to the trail, the city of Baddeck, is about a four hour drive (350 km/217 miles) from Halifax, the capital of Nova Scotia.
To help plan your trip to Halifax check out 22 Things to Do in Halifax and What to Eat in Halifax, plus these awesome tour options: 
What is the history of the Cabot Trail?
The Cabot Trail is named after John Cabot, an early European explorer who landed in the Maritimes in 1497. Controversially, it seems John Cabot actually landed in Newfoundland, not Nova Scotia. However, in the 1930's, Nova Scotia's premier wanted to rebrand the province for tourism purposes by leaning into its Scottish history. So he renamed the area the Cape Breton Highlands and called the loop around it the Cabot Trail.
When should I visit Cape Breton Island?
We visited Cape Breton Island in October 2021 and I thought it was a great time to be there. It was beautiful with the fall foliage and there were way fewer crowds than the summer. However, I think the perfect time to visit Cape Breton Island would be late September. That way, you get the beginning of leaf peeping season and all of the park facilities and seasonal shops and restaurants are still open. For our late October trip, we found some of the leaves had already fallen and quite a few places were already closed for the season.
Can you do the Cabot Trail in one day?
Technically, you can drive the Cabot Trail in one day. However, the best part of the trail is taking in the beautiful scenery. There are lots of places you'll want to turn off to see the views, go on hikes or check out nearby waterfalls or beaches. There's also all of the small towns, shops and restaurants to enjoy. If you only give yourself one day, you'll be speeding past all of the great parts of the Cabot Trail.
Plus, you also have to factor in time to get to the Cabot Trail and back. For example, if you're staying in Halifax, Cape Breton Island is not a day trip. It'll take you four hours just to get to the start of the trail from Halifax, another five hours to drive it, and then four more hours to get back. That's a very long day!
How long does it take to do the Cabot Trail?
The Cabot Trail is 298 km (185 mi) long and takes about five hours to drive without stops. However, you want to give yourself way more than five hours to enjoy all of the trail's beautiful scenery, activities, natural wonders and small towns. I think 3-7 days is the perfect amount of time to spend on the Cabot Trail in Cape Breton, depending on your interests.
If you really love spending time in nature, hiking or getting to know a small town, you'll find plenty to fill a week on the Cabot Trail. If you're not so into hiking or small towns and you're happy to just see the views from the car, one or two nights on the trail will do.
Which direction should you drive the Cabot Trail?
As the Cabot Trail is a loop, you can drive it in either direction – clockwise or counterclockwise. We decided to drive counterclockwise from Baddeck for a few reasons. I had read somewhere that the road was less windy and the hills more gradual going counterclockwise, and as someone who gets carsick, that was a selling point for me.
But more importantly, we wanted to be as close to the coast as possible. While there are viewpoints on both sides of the Cabot Trail, it was really nice to drive on the righthand side along the water and easily pull off to take in the coastal scenery that Cape Breton is known for.
Where should you base yourself in Cape Breton?
While there are accommodations all along the trail, the main bases would be Cheticamp on the west coast and Ingonish on the east coast. There's also Baddeck, which would make a good stopping point if you had to drive a while to get to the trail, as well as Inverness, which isn't technically part of the loop but is another southern rest stop. If you only wanted one base or had a limited time to visit Cape Breton, I'd recommend basing in Cheticamp as it's central to a lot of the best sites and a more built up town than Ingonish.
Find lots of incredible places to stay in Cape Breton here and check out my reviews of where we stayed below!
Is the Cabot Trail dangerous?
In terms of crime, the Cabot Trail, like most of the Maritimes, is definitely not dangerous. Other dangers, like road safety and animal encounters, may be more of a concern. We did not find it scary to drive the Cabot Trail. The road was not very busy in late October, and we never found it too windy or narrow. There were lots of easy places to turn off to take in the views, so it never felt unsafe to stop. Of course, it's best to drive during daylight hours and to stay on marked and paved roads.
In terms of animals or other dangers out in nature, we didn't have any unpleasant encounters. We also didn't do many hikes – mostly just short walks from the car (max 30 minutes). If you're looking to hike or camp on Cape Breton, definitely do some research ahead of time. There are also Parks Canada information centres along the trail you can visit.
What do I need to know before driving the Cabot Trail?
Here are three important things to know about driving the Cabot Trail:
Phone service is spotty. Be prepared to completely lose service in some areas. I highly recommend downloading an offline map before you set off.
The weather can be pretty wild depending on the time of year. Pack accordingly. We always had raincoats and sweaters in the car. If you're camping or going on longer hikes, ensure you have everything you need.
At certain points on the trail, bathrooms and gas stations are harder to come by. And if you travel in the off-season, some of the public park bathrooms will be closed. Plan to refill your gas tank (and empty your personal tank!) whenever you get the opportunity.
One more note about off-season: Many of the local restaurants, shops and accommodations on Cape Breton Island are seasonal and close down for the winter. I believe some of the hiking and camping opportunities also close. So if you're visiting anytime from October to May, double check that the places you want to visit will be open.
Is the Cabot Trail worth it?
Absolutely! The Cabot Trail is absolutely worth visiting. It was one of the highlights of our honeymoon in the Maritimes and a road trip we will remember forever.
All right, now that we have the FAQs out of the way, let's get to my Cabot Trail itinerary!
Cabot Trail Itinerary Day 1: Baddeck
Baddeck is the most common entry point for the Cabot Trail and a good place to stop for the night. To be honest, there's not a ton to do in Baddeck, so you don't need more than one night here. But since you likely drove here from Halifax (4 hours away) or from New Brunswick or Prince Edward Island, it's the perfect spot to spend the day before you enjoy more of the Cabot Trail tomorrow.
What to do and eat in Baddeck:
Visit the Alexander Graham Bell Museum to learn more about famous Canadian inventor and Cape Breton resident, Alexander Graham Bell! AGB is most well-known for inventing the telephone, but he (and his wife!) contributed a lot more to modern technology.
Eat at the Freight Shed Waterfront Bistro. This restaurant was packed when we stopped by for dinner but staff were friendly and the food was tasty. It's a little pricy, but big portions and nice views make up for it.
Enjoy a late night snack from Tom's Pizza. You really can't go wrong with a late night pizza or donair (famous in Nova Scotia) during a Cape Breton Island road trip.
Check out Baddeck Lobster Suppers. Unfortunately, Baddeck Lobster Suppers was closed for the season when we arrived in late October, but they say it's a tasty spot in Baddeck!
Wander Uisge Ban Falls Provincial Park. We also didn't get to this park but I hear it's beautiful.
Where should you stay in Baddeck?
We stayed at Auberge Gisele's Inn in Baddeck ($175 CAD/night in Oct 2021, click the link for a quote and availability for your dates). The decor was pretty old fashioned, but it was a nice, clean place with a large room and friendly service. Breakfast was included in our stay which was convenient, but it was nothing to write home about. Considering we visited in late October, we were surprised that the hotel was so full. It seemed like most of the hotels in Baddeck were full, so make sure you reserve your accommodation in advance.
Find more great places to stay in Baddeck, Nova Scotia!
Cabot Trail Itinerary Days 2 & 3: Ingonish
The drive from Baddeck to Ingonish is about 90 minutes. Along the way you can visit The Gaelic College to learn more about Gaelic culture on Cape Breton, pick up a souvenir at Leather Works By Jolene, take to the water with North River Kayak Tours, and stop for a snack at the Clucking Hen Cafe & Bakery.
With lots to see and do in Ingonish, I'd recommend spending the next two days on your Cabot Trail itinerary here. Visiting in October, we had most of these Ingonish sites all to ourselves. Get ready for some stunning views!
What to do in Ingonish:
Stroll along North Bay Beach. This was a quick stop for us but it's worth it to pull off and check out this little rock beach and cove.
Take in the views at Warren Lake. The fall foliage across Warren Lake was really pretty. There's a cute little bridge you can cross as well as a longer hike if you want to explore further.
Appreciate the might of Mary Ann Falls. It's a bit of a bumpy drive to get to Mary Ann Falls, but it's worth it! Once there, you can check out the waterfall from the top and take the stairs down to the bottom to feel the power of the falls.
Check out the stunning views at Lakies Head. Lakies Head was probably my favourite stop along the entire Cabot Trail. It was absolutely breathtaking and easily accessible from the parking lot.
Enjoy Black Brook Cove Beach. We packed a lunch and brought it to Black Brook Cove Beach which was the perfect backdrop for our picnic. It was a beautiful spot and so cool to hear the waves crashing against the rocks.
A few other things you can do in Ingonish that we didn't get to include hiking the Middle Head Hiking Trail and Franey Trail, checking out Neil's Harbour Lighthouse (apparently there's an ice cream shop inside!), and going whale watching. There's also a new gondola and viewpoint that had just opened, but was a bit outside of our budget.
Where to eat in Ingonish:
Main Street Restaurant: This was one of very few restaurants open in Ingonish in late October, so we lucked out that it was a tasty one! We enjoyed great mussels and seafood chowder for lunch, as well as tacos and salad to go for our dinner.
Salty Rose's Periwinkle Cafe: This cafe is a cute stop along the Cabot Trail for a charming (but slightly overpriced) breakfast. If you're happy to splurge, you can enjoy a tasty breakfast sandwich and fancy coffee. Don't miss browsing their artisan gift shop.
Ingonish Freshmart: While this grocery store won't be winning any culinary awards, it's a great place in Ingonish to load up on some snacks or get picnic supplies for lunch on the road.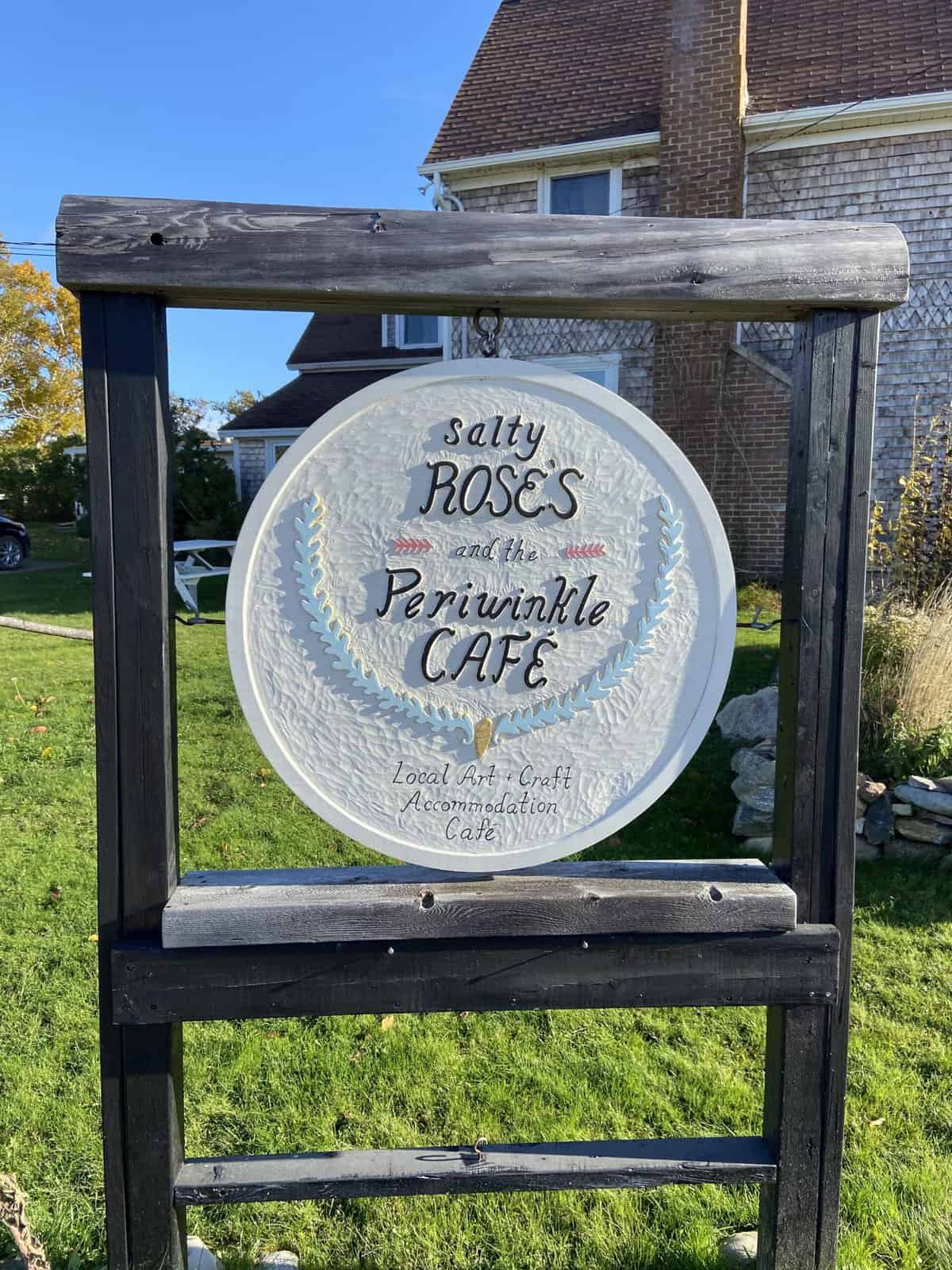 Where should you stay in Ingonish?
We stayed at Knotty Pine Cottages in Ingonish and the space was beautiful ($209 CAD/night in October 2021). Our little cottage was adorable, had plenty of living space and boasted a gorgeous view of the water. I parked myself right in front of the window while I worked to enjoy it!
Unfortunately, the wifi did not work in our room. We were pretty disappointed by the runaround the employees gave us about trying to fix it. Colin walked up to the reception area twice (they didn't answer their phone or offer to come down to our cottage) and despite his efforts and the promises of the employees, the wifi did not improve. This was especially frustrating as Colin had an online meeting and I was trying to get my client work done. Colin ended up driving back up to reception and doing his meeting from the car.
So while we loved the view, the wifi issue left a bad taste in our mouths – especially as this was one of our more pricy stays of our honeymoon. I would still recommend staying here, because the water view and cute cottage were great, but don't count on the internet working.
Find more beautiful places to stay in Ingonish!
Cabot Trail Itinerary Days 4 & 5: Cheticamp
Cheticamp is just under two hours from Ingonish. Cheticamp is on the northwest side of Cape Breton Island and is a former Acadian fishing village. We found it more lively than Ingonish, but still quite sleepy compared to most cities and towns. Along the way from Ingonish to Cheticamp, stop for coffee at the Pumpkin Patch, whale watch in Pleasant Bay, take in the view from MacKenzie Mountain and visit Benjies Lake.
I'd recommend spending the final two days of your Cabot Trail itinerary based in Cheticamp exploring the sights nearby. From Cheticamp, it's a 4.5 hour drive back to Halifax.
What to do in Cheticamp:
Enjoy the views from Aspy Fault. Above are some of the sights of Aspy Fault, a fault line that runs through Cape Breton Island and is responsible for most of the epic geography of the region. It was especially cool to see in fall with the changing leaves. There are lots of places to pull over, read informational plaques and take in the views.
Visit The Lone Shieling. The Lone Shieling is a replica of a Scottish farmhouse that would have existed in one of the first settlements on Cape Breton Island. It's an easy and short trail through the woods to reach the house, so worth a quick stop.
Take in the Skyline Trail. The Skyline Trail is probably the most popular hike on Cape Breton Island, and really the only time we saw more than a handful of people on the Cabot Trail. We're not hikers, and it was a pretty gloomy day when we got there, so we chose not to walk it. But we did enjoy the views of the Skyline Trail from the car and various lookout points.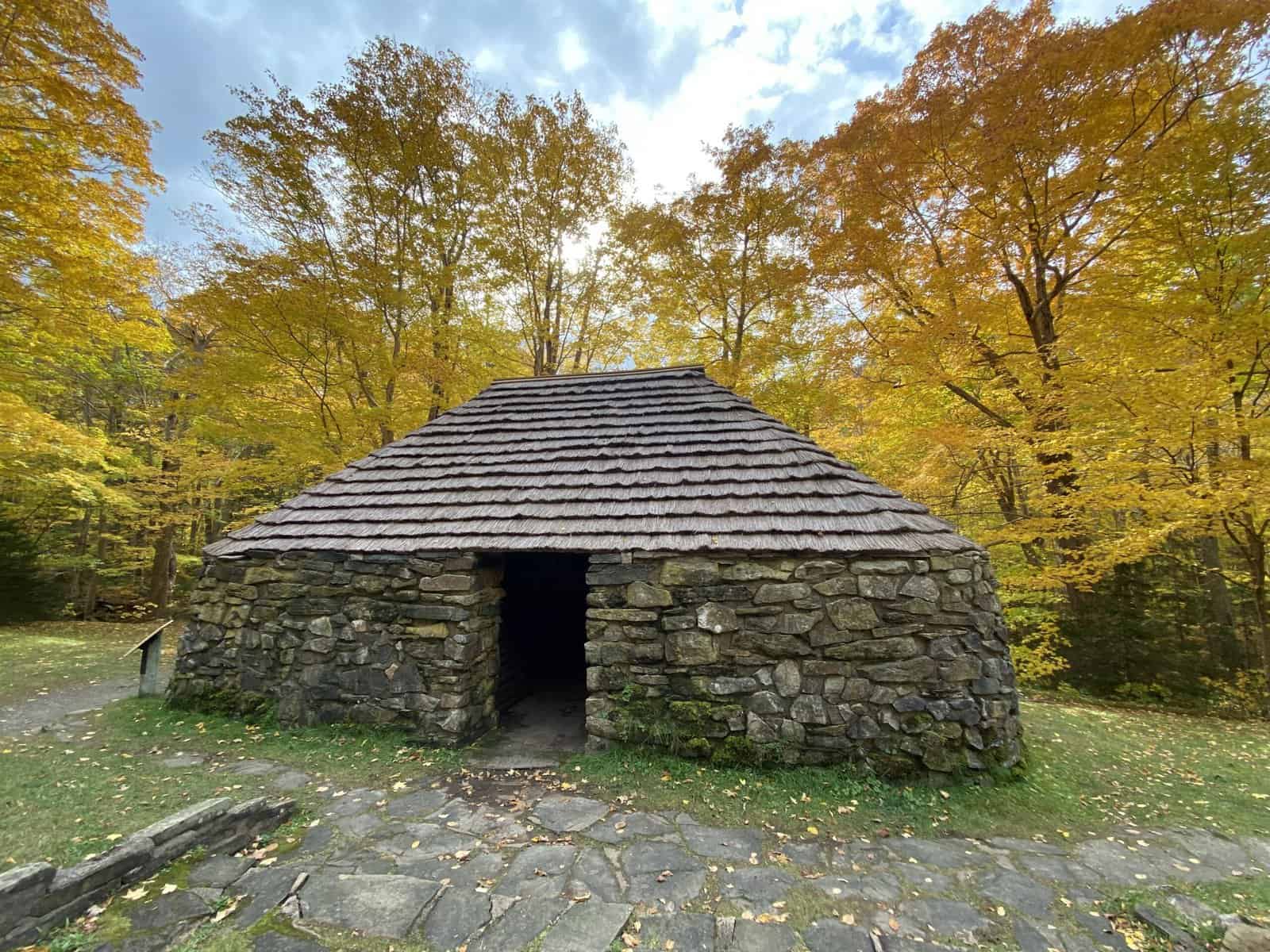 Go back in time at La Bloc Beach. La Bloc Beach is the site of an old Acadian settlement. Plaques in the area will describe the village that used to exist on what is now a quiet beach.
Drive along Cheticamp Island. Take a bumpy drive across the water from Cheticamp to Cheticamp Island to see the lighthouse, enjoy the coast and spot lots of cows.
Stroll up to Gypsum Mine Lake. Gypsum Mine Lake was one of our favourite finds along the Cabot Trail. It's a 15-20 minute walk from the parking lot (relatively easy but a little uphill) to a gorgeous turquoise lake surrounded by trees.
Enjoy Margaree Harbour Beach. It was a cold day when we visited, so we didn't spend much time on the beach. But I loved the sandy scenery and picturesque trails.
Explore Lake-O-Law Provincial Park. Unfortunately, we also didn't spend much time at this park as it was quite chilly out and we were hungry. If we had visited a week or so earlier, all of the trees would have been bright yellow, which would've made for a very scenic walk.
Sadly, the following places in Cheticamp were closed when we visited, but I've heard good things about them: Les Trois Pignons Cultural Center, Flora's Gift Shop Ltd. and Centre de la Mi-Carême. We also skipped out on Egypt Falls, as apparently the hike down is quite steep and you need to use a rope. But it looks like a very cool spot!
Where to eat in Cheticamp:
L'Abri: L'Abri is the most talked about restaurant in Cheticamp and it doesn't disappoint. It's a trendy spot with a bit of a high price tag, but well worth it. The service is awesome, the vibes are great and the views are beautiful. We recommend splurging on the steak, which was fantastic, instead of cheaping out on the sandwiches, as they were just so-so.
Aucoin Bakery: Another famous spot in Cheticamp is Aucoin Bakery. Go early and get your fill of fresh pastries and breads. We really loved their croissants, cinnamon buns and turnovers.
Dancing Goat Cafe & Bakery: The Dancing Goat is yet another institution in the Cheticamp area. We stopped by for a lunch of caesar salads (it had been a minute since we had eaten any vegetables) and they were surprisingly affordable and filling. We also couldn't resist a slice of cheesecake to go!
Where should you stay in Cheticamp?
We stayed at Cheticamp Outback Inn in Cheticamp ($129 CAD/night in Oct 2021, click the link for a quote and availability for your dates). This place feels like it's in the middle of nowhere but it's really only a five minute drive from the main street. This was probably our favourite stay in Cape Breton because of the awesome service. The woman who welcomed us was so kind and filled us in on everything to do. She even went to the Aucoin Bakery to bring us some baked goods as a surprise on our first morning. Plus, the wifi worked very well!  
Find more awesome places to stay in Cheticamp! 
Don't have 5 full days for the Cabot Trail?
If you don't have time for the full 5 day Cabot Trail itinerary, you can definitely still enjoy the Cabot Trail with less time. If you're happy to push through and drive straight to Ingonish, you can skip spending the night in Baddeck. You could also cut a night from Ingonish and/or Cheticamp since this itinerary suggests two nights in each. To decide which one to cut a night from, I'd simply look at the itinerary activities above and prioritize whichever place sounds more appealing.
Want to spend more than 5 days on the Cabot Trail?
If you have more than five days to spend on the Cabot Trail, that's awesome! There really is so much to do in Cape Breton that this itinerary barely covers, like whale watching, kayaking, golfing, hiking, camping and more. You can easily extend your stay in Baddeck, Ingonish or Cheticamp to spend more time out in nature. If you visit in the summer, there will be lots of activities to take part in.
If you want to explore further, you can head north off the trail past Dingwall. I've heard this area is very scenic, but the terrain makes it harder to drive. You could also spend time in Inverness, just south of the Cabot Trail, which is a great spot for golfing or hitting the beach. Or you could head east to Sydney and even take the ferry to Newfoundland!
---
There you have it – my pretty exhaustive guide to all things Cape Breton Island and my 5 day Cabot Trail itinerary. Have you ever been to Cape Breton? If not, have I convinced you to add it to your travel bucket list?
PS: This is my 400th post on Teaspoon of Adventure! Help me celebrate this epic milestone by pinning one of the images below or leaving a comment on my Cabot Trail itinerary. Thanks for being here!